Acts 4:5-12 – Peter questioned for healing. There is no other name by which we must be saved.
Psalm 23 – The Lord is my shepherd; I shall not want.
1 John 3:16-24 – All know Jn. 3:16. 1 Jn 3:16 important too: By this we know love, that he laid down his life for us. So we ought to lay down our lives for one another… Little children let us not love in word or speech, but in truth and action.
John 10:11-18 – The good shepherd lays down his life for the sheep. The hired hand runs away. I know my sheep. I have other sheep not of this fold.
Hymns: Shepherd Me O God, The King of Love My Shepherd Is…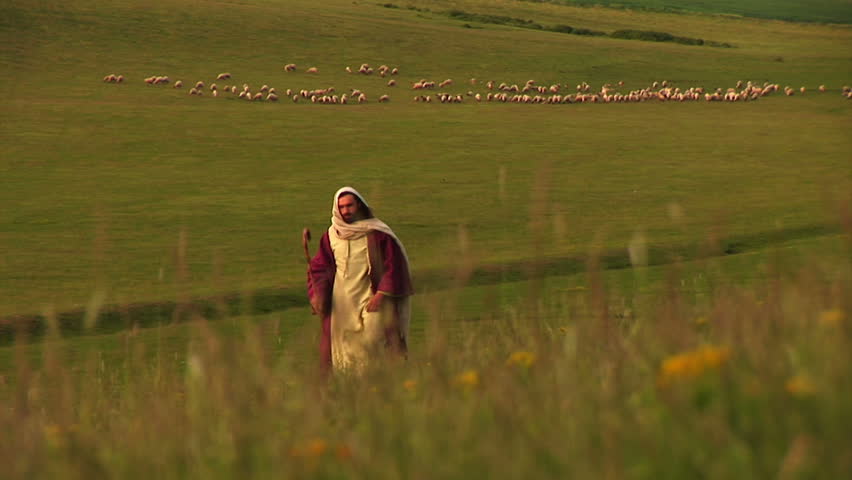 Psalm 23
In our first reading from Acts, Peter is questioned for healing. Our second reading is from John's first letter. Many people know John 3:16, but not as many know 1 John 3:16:
We know love by this, that he laid down his life for us—and we ought to lay down our lives for one another. How does God's love abide in anyone who has the world's goods and sees a brother or sister in need and yet refuses help? Little children, let us love, not in word or speech, but in truth and action. (1 John 3:16-18)
I AM. John 10 is the classic Good Shepherd text, and one of the "I am" texts from John. The "I am" (ego eimi, in Greek), reflects God's response to Moses (Exodus 3:14), when Moses asks, "Which god shall I say sent me?" Jesus uses this phrase 45 times in John's gospel. (4:26; 6:20; 6:35; 6:41; 6:48; 6:51; 7:28; 7:29; 7:33; 7:34; 7:36; 8:12; 8:16; 8:18; 8:23 (twice); 8:24; 8:28; 8:58; 9:5; 10:7; 10:9; 10:11; 10:14; 10:36; 11:25; 12:26; 13:13; 13:19; 13:33; 14:3; 14:6; 14:9; 15:1; 15:5; 16:32; 17:11; 17:14; 17:16; 17:24; 18:5; 18:6; 18:8; 18:37; 19:21, according to Felix Just, S.J., PhD of catholic-resources.org)
Sometimes Jesus just responds, "I am," ominously. Other times there is an object.
I am the door.
I am bread of life.
I am the light of the world.
I am the vine; you are the branches.
I am the resurrection and the life.
And of course, I am the good shepherd
The good shepherd lays down his life for the sheep. The hired hand sees the wolf coming and runs. Jesus says, "I am the good shepherd."
Here is a sermon on John 10 from Martin Luther, from his 1523 sermon postil: http://www.lectionarycentral.com/easter2/LutherGospel.html
I am going to focus on the psalm. Psalm 23.
I believe this may be the first Bible verse my parents taught me as a child. I have taught it to my children. We printed it and taped it up above the bed so we could read it each night. Throughout my life, its words have rung in my ears, in the highs and the lows.
I would consider reading this slowly with the congregation, having them parrot back the verses one by one. Maybe print out a bookmark with the psalm on it, encouraging the congregation to memorize it. Revisit it the following week. Sing "Shepherd Me, O God" and/or "The King of Love My Shepherd Is."
The thing is, most people these days don't have sheep. The analogy may have worked in a pastoral community. Today, we will have to work to make this understood.
The Lord is my Shepherd, I shall not want.
This is a beloved passage. That first verse, is it a command or a promise? Is the psalmist saying, "The Lord is my shepherd, therefore I should never want anything."? Or is the psalmist saying God provides all I need?
I read it as a promise. Because God is like a shepherd who takes care of the sheep, I am not going to be in want. The psalm invites us to recognize that God has provided abundantly: earth and sea, the beautiful wild flowers, trees, the singing birds, plants and animals, food and clothing, and all I need from day to day. When we see with spiritual eyes, we see the world as a tremendous, beautiful gift. We see ourselves as being blessed by a generous God. When we see with heaven's eyes, we recognize that we have enough. We can stop clamoring for more, more, more. We already have enough. Freedom from want can be exhilarating.
Some will quickly point out, not everyone has enough. This is true. Too true. But God has provided enough. There is enough food in the world for everyone to eat. More than enough. God has provided. What we have is a distribution problem. It is human sin, greed, and war that keep people from eating. In his feeding of the five thousand, Jesus shows us that our God is a God of generosity, therefore we are to be a people of generosity. Giving is a sign that the Spirit is at work in us. Jesus teaches his followers to give: "When I was hungry you gave me food."
The psalmist invites us to live life, trusting God as provider. Jesus does the same (in Matthew 6):
Therefore I tell you, do not worry about your life, what you will eat or what you will drink, or about your body, what you will wear. Is not life more than food, and the body more than clothing? Look at the birds of the air; they neither sow nor reap nor gather into barns, and yet your heavenly Father feeds them. Are you not of more value than they? And can any of you by worrying add a single hour to your span of life? And why do you worry about clothing? Consider the lilies of the field, how they grow; they neither toil nor spin, yet I tell you, even Solomon in all his glory was not clothed like one of these. But if God so clothes the grass of the field, which is alive today and tomorrow is thrown into the oven, will he not much more clothe you-you of little faith?
Luther reflects this in his explanation of the first article of the Creed, in the Small Catechism. Perhaps, like me, you memorized this as a child:
I believe that God has made me and all creatures; that He has given me my body and soul, eyes, ears, and all my limbs, my reason, and all my senses, and still preserves them; in addition thereto, clothing and shoes, meat and drink, house and homestead, wife and children, fields, cattle, and all my goods; that He provides me richly and daily with all that I need to support this body and life, protects me from all danger, and guards me and preserves me from all evil; and all this out of pure, fatherly, divine goodness and mercy, without any merit or worthiness in me; for all which I owe it to Him to thank, praise, serve, and obey Him. This is most certainly true.
The Lord, who is my shepherd, this generous and abundant giver, also leads us to green pastures, beside still waters, to restore our souls and along right pathways for his name's sake.
Our God not only provides for us abundantly, this God also promises a peace that passes all understanding, leading us beside still waters and green pastures. Communion with this God leads not to anger, enmity, strife, but to joy, peace, compassion. When you feel lost or broken, this shepherd will come and seek you out. Communing with the Great Shepherd will restore your soul and set your life on the right pathway.
God cares about you. God cares about lost sheep. Jesus said, "I have sheep that are not of this fold." Jesus cares about those who are outside the church, therefore the community of God, the church, cares about lost sheep. We are the community that seeks lost sheep. Because we ourselves were once lost, but now are found. So, everything in the church, everything, should be obsessively focused on seeking lost sheep. We are a hospital for sinners, not a club for saints. By this shall all people know you are my disciples: your love, your love, your love for one another.
This God promises to be with us, even when, especially when we walk through the valley of the shadow of death.
This God promises to show up in our darkest hour. Even when we feel abandoned, when we do not feel God's presence, The Great Shepherd is there.
What have been the darkest valleys of your life? Perhaps you are in it right now. Perhaps memories of it still haunt you.
God promises to be with us when we walk through dark times. Therefore, we the church walk with others through their dark times. In fact, we look for those who are grieving, lonely or in need of any kind. We seek them out, and apply love and care, because that's what it means to be the people of God.
This God, this Lord, this Shepherd, provides for us even when evil encircles us.
This Good Shepherd sets a lavish table, a feast for us, in the presence of our enemies, and anoints our heads with oil. When those who hate you, surround you, turn to the Great Shepherd. Trust the Shepherd of your Soul, and you will find a feast of goodness and mercy.
Therefore we, the church, do the same for others. We stand with those who are oppressed, broken, outcast. We are called to love the unlovable and touch the untouchable. Just as Jesus touched lepers and ate with outcasts, we the church are called to do the same. We are the community of Jesus. Our ministry is to look like the ministry of Jesus, not the ministry of the Pharisees.
And when evil rears its ugly head, we stand up for those who are oppressed, even if it means giving our own lives. Because the Good Shepherd gave his life for us. Greater love has no one than this, that you lay down your life for your friends. The Good Shepherd lays down his life for the sheep (John 10:11). The hired hand runs away. The hired hand has no investment in the sheep. Why risk your life? Are you an owner or are you a hired hand? Do you care for God's sheep, enough to risk your own skin?
It strikes me as profound that when Lutheran pastor Dietrich Bonhoeffer visited the U.S. he knew he was being hunted by the Nazis. His Lutheran friends in the U.S. implored him to stay here, but he said he could not abandon his people at their hour of greatest need. He returned and was executed 73 years ago this month. The hired hand runs away, but the Good Shepherd lays down his life for the sheep.
Finally, we get to the best part: This Good Shepherd promises that goodness and mercy will follow us all the days of our lives, and we will dwell in the house of the Lord forever.
When you are at death's door, this Shepherd will be there. When you, on that final journey go, the Good Shepherd will be with you once again. "In my Father's house there are many rooms." "I go to prepare a place for you, that where I am you may be also." Even when you think that death has the last word, this Shepherd will have one last surprise for you.
Therefore, we the church, we the people of God, are not a community of death, but a community of life. We are not a community of despair, but hope. Let the sermon reflect this. We are the people of the resurrection. We proclaim a message of grace and hope to a world that seems to think that death is the final word.
This is what it means to say "the Lord is my shepherd:" It is to trust in God for everything in life, to give freely and joyfully, it is to live in the peace of Christ, it is to trust God, even when enemies surround us, and to stand with others in the same situation. It is to trust God in life and death, and to be with those in the valley. It is to proclaim a word of hope.